Event Report (World Square -India Edition-)
World Plaza -India-
 On June 6th (Sun), "World Hiroba Indian Republic Edition" was held at Unicom Plaza Sagamihara.The speakers are Mr. Rakesh, who is from Hyderabad, India, and Mr. Ogawa, who has lived in New Delhi for a long time.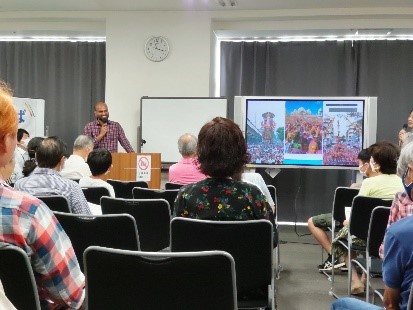 According to Rakesh, India's official language is Hindi, but many more languages ​​are spoken.It seems that there are 22 languages ​​that are recognized by law.I was shocked to hear that Rakesh can speak 17 languages ​​including Japanese.Indian bills are written in XNUMX languages.Through letters, I was able to feel the diversity of Indian culture.
 Indians also value festivals.The way of enjoying it, the traditional clothes, the food, etc., differ from region to region, but it seems that it has the meaning of the end of the cold winter, the arrival of warm days, and the beginning of the harvest season.The dances also vary from region to region, with ``Katak'' and ``Bangla'' in North India, and ``Kerala Nathanam'' and ``Bharatanatyam'' in South India.Holi, Diwali and Dasara, which are said to be the three major Indian festivals, pray for good to triumph over evil.Everyone at the venue was intrigued by the story of the Ramayana, which has been handed down from ancient times.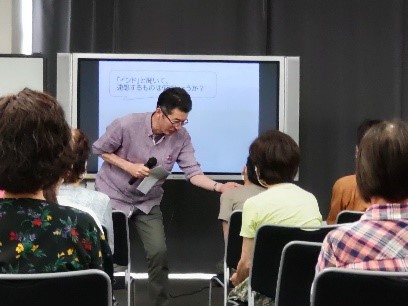 Mr. Ogawa, who loves curry, talked about what kind of city New Delhi is like, including his experiences.Like Japan, there are four seasons, but it is said that the difference in temperature is extreme.The maximum temperature in summer can reach 48℃, and the water in the shower was boiling hot on that day.
India is the home of Buddhism and a major Islamic country.Listening, I felt a tolerance for each other's differences.Mr. Ogawa's words, "There is a different India for each of the 14 billion people," were very impressive.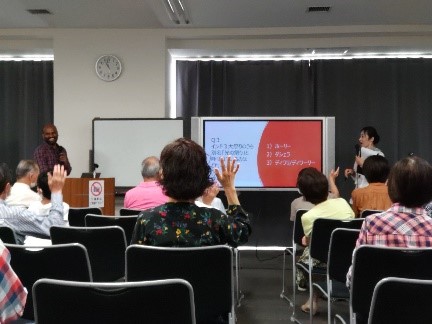 After the country introduction, the venue was lively with a quiz based on Mr. Rakesh's story and a question and answer session with the participants.At this year's "World Plaza," "greeting cards" with Indian greetings written on them were distributed.It seems that some people are looking forward to collecting greeting cards from the country that is the theme of each episode.Why don't you visit it once by all means?